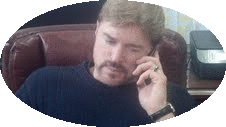 Attorney Garry J. Kregelka, JD; MLS

When bad things happen to good people. . .

Experience Matters!
So Do Qualifications and Personal Ability!

We Specialize in Crisis Management

Former Michigan State Police trooper, detective, and post commander. Former police chief in Beloit, Wisconsin. Former prosecutor for Meridian Township. Licensed private investigator since 1999. Graduate of the FBI National Academy in Quantico, Virginia. Bachelor of Science Degree in Criminal Justice and Master Degree Interdisciplinary Technology from Eastern Michigan University. Graduated Summa Cum Laude (class rank 1/132) from Thomas M. Cooley Law School. Scored in the top 3% nationally on the multi-state bar exam (MBE). Probate and Estate Planning Certificate (MI State Bar / ICLE) Adjunct Professor at Cooley Law School. Admitted to state and federal courts. Practicing attorney for over twelve years.


"At the Kregelka Law Firm we are at our best when we are helping people at the worst of times." Our mission is to provide the very best legal services and counsel to clients who are facing family difficulties, an arrest, serious injuries, or planning for the inevitable. "Let us be your equalizer in an unequal and uncertain world. We specialize in personal crisis management and solving problems is our business."
Conveniently located near US-127 and I-96 (see map below) to serve Ingham, Jackson, and Eaton Counties, the Kregelka Law Firm is a general-practice law firm serving the entire Mid-Michigan region. We provide clients with a wide range of legal services in practice areas including:
Criminal Defense - Traffic Offenses (including Drunk Driving and Driving While License Suspended) Contracts - Family Law - Divorce - Personal Injury Dog Bites - Police Civil Liability - Real Estate
Wills,Trusts and Probate Estates
Whistleblowers - Stalking - Harassment - Personal Crisis Management - and others
Office Consultations By Appointment Only $300
We Also Offer Unbundled "A La Carte" Services

As a small firm, we control our caseload to provide individual attention to every client. You will meet with us personally in your initial consultation. If necessary, we may even come to you.
As family lawyers we will seek a fair and workable resolution in your divorce, child custody, or family law issue. As criminal defense lawyers, if you have been arrested or charged with a crime, we will help you fight the charges. And if you think you may be arrested, we may be able to prevent it. As estate planning lawyers we can also help you secure your family's future by providing counsel in estate planning, and prepare wills, trusts, powers of attorney, and advance directives (living wills). No matter what your legal issue, you can trust that we will work hard to achieve the best possible outcome. We make it a point to treat our clients like family.